Minnesota recently passed a "Concussion Law" which requires all public and private athletic associations to implement concussion training and education to improve athlete safety and establish safe return-to-play policies for athletes who sustain a concussion.

The new suits and jackets have arrived! Full size range available, see merchandise link for details. They are fast and will go fast, so order soon! picture by www.skinnyski.com.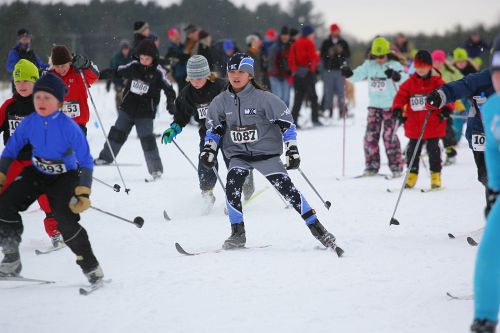 Erik Reinnika, level 1 at Wirth: I coached with Eric and he was at every lesson, even though he has no kids in that level. He was able to improvise and always had good feed back, and was a pleasure to work with.
Jon Dicus, level 3, Wirth: I coached with Jon last year and he was well organized. I didn't coach with him this year, but my wife gives him high marks for keeping the kids well entertained and playing great games. 
*******OVERALL SERIES RESULTS******* are attached below. Also all race results.
We were not able to get names of participants in the MinneLoppet, so if your child did this as a second race in the series, let me know and I will prepare a certificate. And of course, let me know if there are any other corrections. Compiling the results was a bit more challenging than expected (too many different results formats), but now we know better for next year!
Certificates will be handed out on March 7th 2pm at the Wirth Chalet (MYSL Great Ski Together). Certificates and medals (for J3-J5 overall) will be handed out at Wirth on Mar 13th at noon up in the stadium (Midwest Junior Championships).
Congratulations to all of the racers!
________________________________
Full results are attached below.
Night #7 (2/17/10) was our 2010 finale. We had a record 9 teams. Sachs and Duede put the hurt on six laps of the 2.5km loop to go out on top.
Night #6 gave us some of everything; teams of men, mixed, classic skiers and youth.
Night #5 expanded the loop to 2k. The course was in perfect condition for yet another close and exciting team sprint.
Night #4 finally broke the Duede/Sachs reign (indeed Duede wasn't there) with Chip Tabor and Dave Nelson pulling off a close victory on a cold night.
What a great way to voluteer for a great organization!
Contact Amy with questions or to express interest.
Amy Cichanowski , the new Executive Director of the MYSL, took advantage of her first season (2005-06) to visit many of the MYSL clubs.
"It was definitely the highlight of my first year; seeing all of the kids and meeting the volunteer leaders and coaches that make our League possible. And it's also important that people know who I am," says Cichanowski.
Cichanowski, who had her husband, Marc, and 8 month old daughter, Ursula, in tow most of the time, journaled about her experience.
"I wanted to see how the different clubs are run and distill the best aspects and ideas into a toolbox for all clubs to use."
Pages